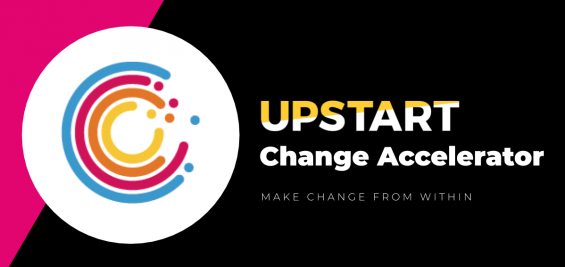 UpStart's Change Accelerator equips intrapreneurs – the bold leaders making meaningful change within their Jewish institutions – with a set of lifelong skills, tools, and mindsets to adapt to any challenge and meet their constituents' evolving needs. Participants learn to think like an entrepreneur, gaining a new understanding of how to think strategically, change course quickly, and create bold solutions to any challenge they face.
In the established institutions that drive so much of Jewish life, intrapreneurs can play a pivotal role in moving the needle. Yet leading change through unprecedented times without the proper support can be lonely and frustrating. Individuals within larger organizations can face obstacles, lacking authority to test bold ideas, the skills to gain buy-in across teams, and the supportive network to make it happen.
UpStart launched the Change Accelerator in 2017 in Chicago. Since then, 6 cohorts of leaders have tackled some of their organization's toughest challenges. Alumni of the Change Accelerator have been promoted within their organizations and have launched initiatives and collaborations with their new connections in the UpStart network.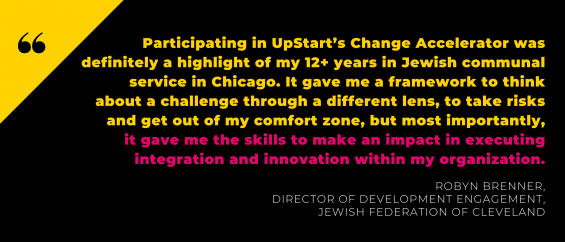 NEW THIS YEAR
Today, the world is changing rapidly–the current health and financial crises, as well as the social movements borne from ongoing racial violence, have illuminated new priorities and created unprecedented challenges for institutions. We have updated the curriculum to speak to the unique needs of this moment. This year, the Change Accelerator will also gather select cohorts of professionals from across the country to learn how to create lasting change within their team, organization, and the entire Jewish ecosystem.
Meet the bold change leaders selected to participate in the National Change Accelerator in 2021.
ABOUT THE PROGRAM
Accepted participants will learn with and from a supportive cohort who will process, brainstorm, and navigate challenges together, while inspiring a culture of adaptability in their organization. Join a unique cross-section of leaders who are seeding game-changing ideas and collaborations.
This 6-month program will draw on the frameworks of design thinking and adaptive leadership as participants build skills around turning challenges into opportunities, gathering necessary feedback on solutions, and navigating the dynamics of leaderships vs. authority. No previous experience with these frameworks required.
All sessions will take place virtually. There is no cost to apply or participate.
ELIGIBILITY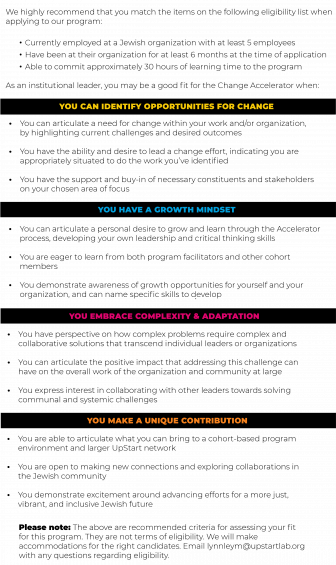 ABOUT UPSTART
UpStart partners with the Jewish community's boldest leaders to expand the picture of how Jews find meaning and how we come together. Whether someone is starting a new Jewish venture or reimagining what an existing one has to offer, UpStart gives them the entrepreneurial tools and network they need to build the Jewish community of the future.
Want to learn more? Read up on our programs, check out our latest insights, and sign up for our mailing list.
Have additional questions? Reach out to us any time at institutions@upstartlab.org.
Interested in supporting our work? Donate today.