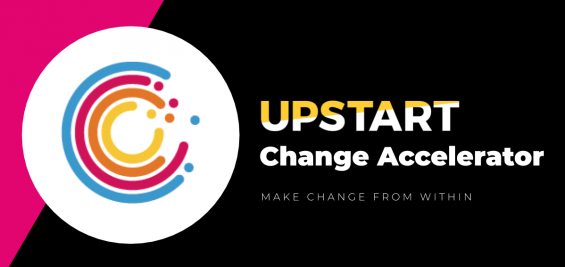 UpStart's Change Accelerator equips intrapreneurs – the bold leaders making meaningful change within our community's Jewish institutions – with a set of lifelong skills, tools, and mindsets to adapt to any challenge. This 9-month program will draw on the frameworks of design thinking and adaptive leadership as participants learn to think like an entrepreneur, gaining a new understanding of how to think strategically, change course quickly, and create bold solutions to any challenge they face.
The 9 month Change Accelerator includes:
Training: Learning that will draw on the framework of Adaptive Design to help participants address identified challenges
Cohort Learning: Facilitated connections to a supportive cohort who will process, brainstorm, and navigate challenges together
Funding: Opportunity to apply for R&D grants for experimentation
Meet the bold change leaders selected to participate in the National Change Accelerator in 2021.
MORE ABOUT THE PROGRAM
The Change Accelerator has previously been a program that was offered free of charge to the community. We've learned that when our participants commit a financial investment in their professional development, they show a stronger commitment to the learning and growth through the program.
Scholarships are available. Please contact institutions@upstartlab.org for more information.
$180 for orgs with budgets under $5M 
$360 for orgs with budgets over $5M
Fee for this 9-month program includes: 
Cohort-based learning opportunity 

Approximately 30 hours of content, combination of synchronous and asynchronous learning

Access to UpStart expert facilitators 

Required program materials

Access to UpStart resources through online Community platform (access continues even after the program ends)

Eligibility to apply for up to $1200 R&D grant 

Becoming part of the UpStart network and access to ongoing opportunities 
ELIGIBILITY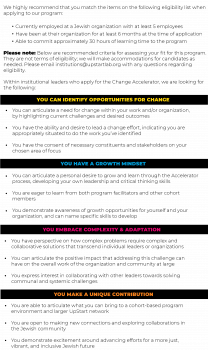 ABOUT UPSTART
UpStart partners with the Jewish community's boldest leaders to expand the picture of how Jews find meaning and how we come together. Whether someone is starting a new Jewish venture or reimagining what an existing one has to offer, UpStart gives them the entrepreneurial tools and network they need to build the Jewish community of the future.
Want to learn more? Read up on our programs, check out our latest insights, and sign up for our mailing list.
Have additional questions? Reach out to us any time at institutions@upstartlab.org.
Interested in supporting our work? Donate today.